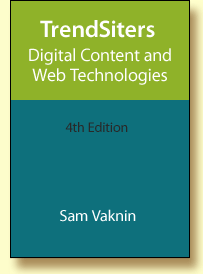 TrendSiters – Digital Content and Web Technologies
by Sam Vaknin
Essays dedicated to the new media, doing business on the web, digital content, its creation and distribution, e-publishing, e-books, digital reference, DRM technology, and other related issues.For more about the author and his work please visit: www.narcissistic-abuse.com
Click on the link below to start downloading this free ebook:-
TrendSiters – Digital Content and Web Technologies – PDF, 1.8mb Zipped, 408 pages
Site requires registration prior to download.
Items posted here are free at the time of posting. If you find they are no longer free, kindly notify us immediately through our contact form.